Ok, so my wife got a Google Chrome Notebook (also known as the CR-48). But that counts as me getting one, because according to God and the government, we are one entity. Right?  Plus she lets me log on to it every now and then and agreed to let me blog about it…
That's how the beginning of this post was supposed to go, when I started working on it 6 weeks ago and never finished. The funny thing is, I put off writing the post long enough to get my own Google Chrome OS Notebook! That's right, I'm not kidding.  We are now a 2 Google Notebook family. I'm not sure what went wrong in the science behind Google's distribution algorithm but that means 2 were shipped to the same address. And that means I'm a lucky buzzard. So I figured I better get on it with the whole "sharing this info with the world" thing. And by world, I mean the 3 readers that accidentally end up on my blog (hi guys!) Watch for future posts on usability, bugs, etc.
This post is the un-boxing of the Google Chrome Notebook CR-48.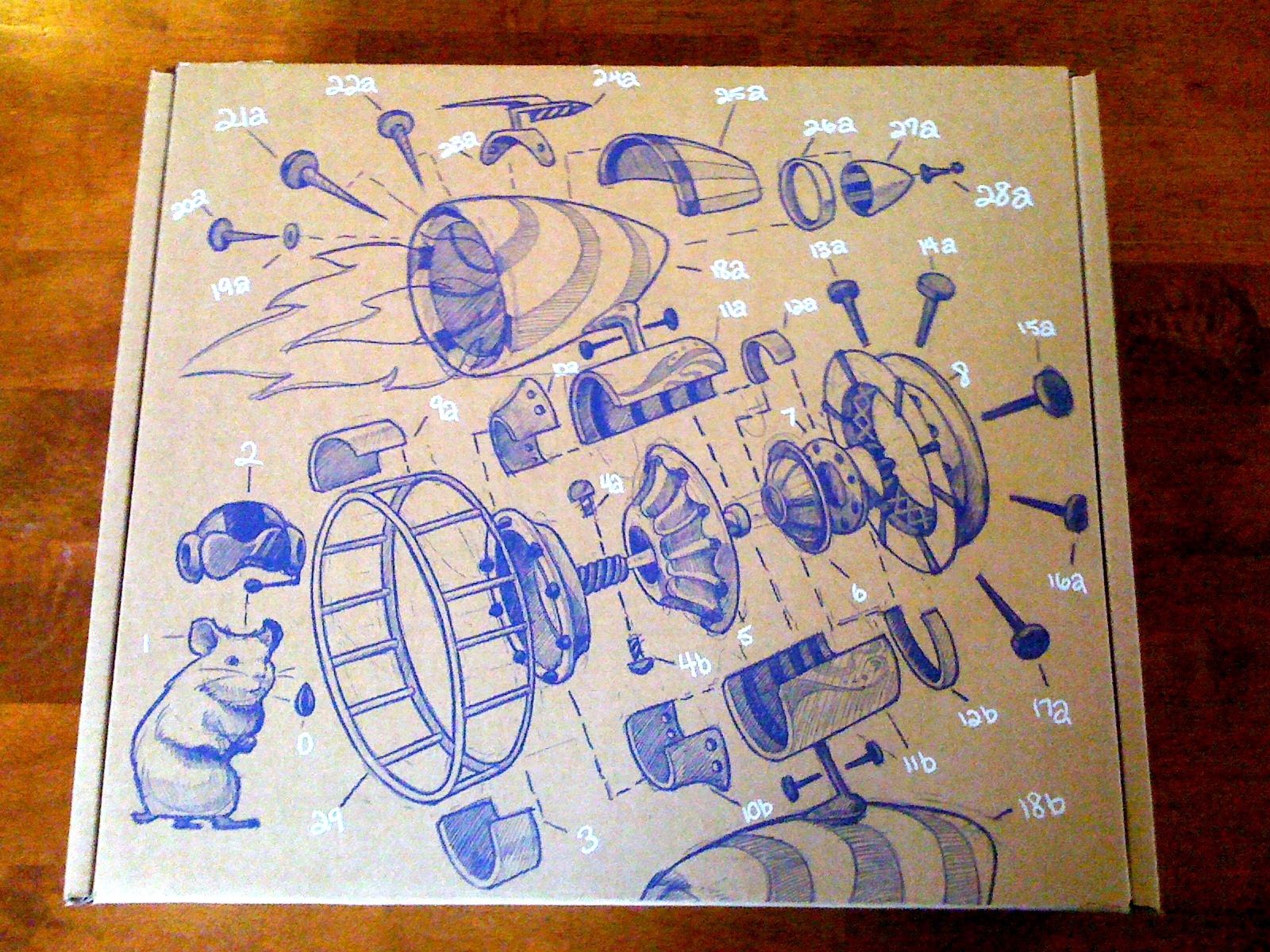 Let's start with the packaging:
The box it comes in is a plain brown cardboard box with a UPS label on it. The return address lists some discreet unheard of company in KY. When you cut the plain box open you find this (above) inside. Another box inside has a funny little blueprint-style cartoon image of a hamster-powered contraption (hamster included according to the picture). Almost like something you'd see on some Urban Outfitters packaging. The first time we got to this level of excavation we were perplexed at what may lay inside. My wife has an affinity for UO and so we started to think someone had ordered her a nice surprise and had it shipped directly.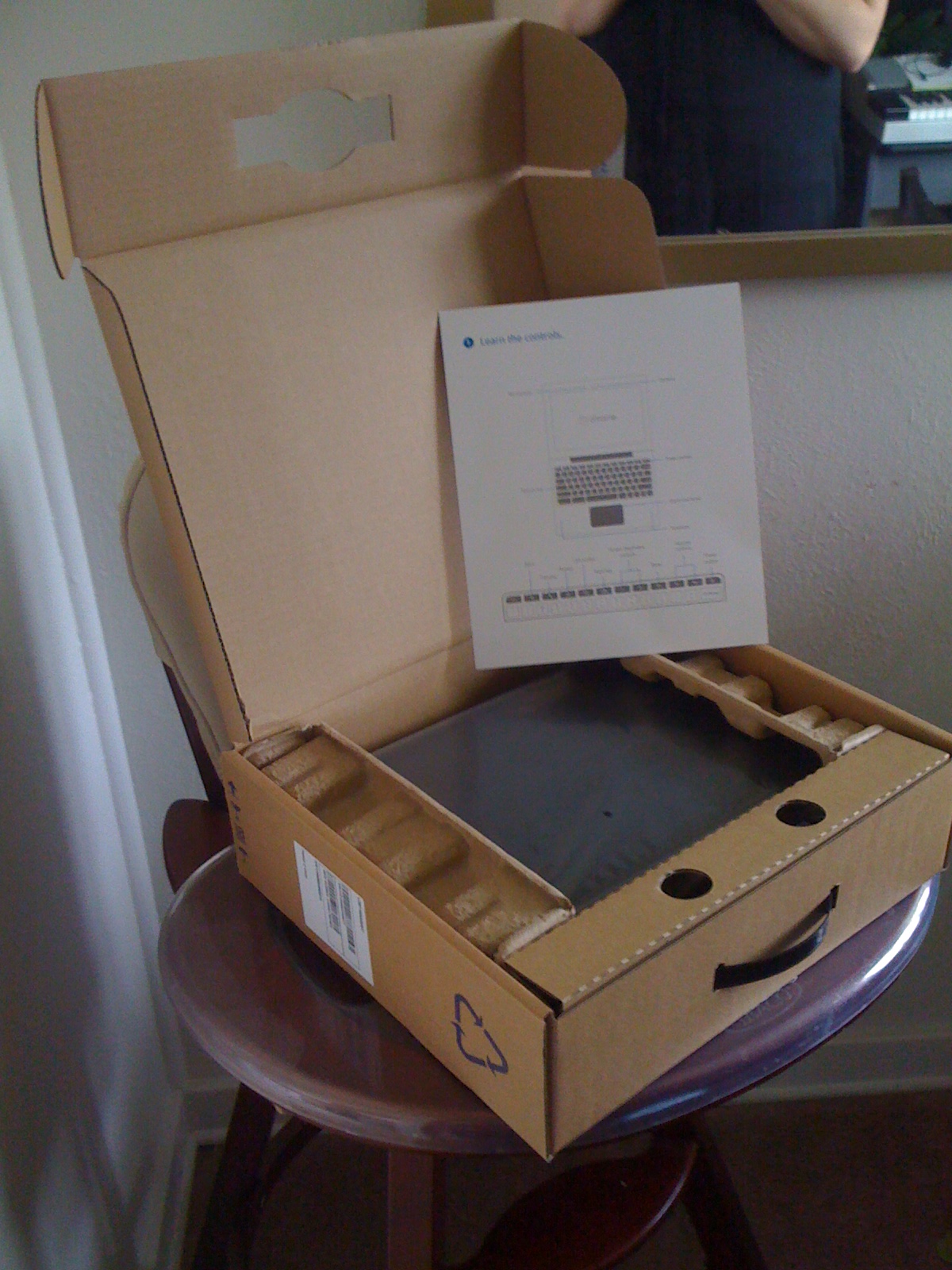 The screams and shouts of disbelief that came out of the two of us when we opened the interior box seem a little silly looking back on them now, but never in a million years did we believe that either of us would actually get the Chrome OS Notebook we both applied for. We're not the types who win contests, free trials, etc regularly. So try to imagine our disbelief when, about a week ago, there was an identical package sitting on our doorstep, this time addressed to me. (Thanks Google)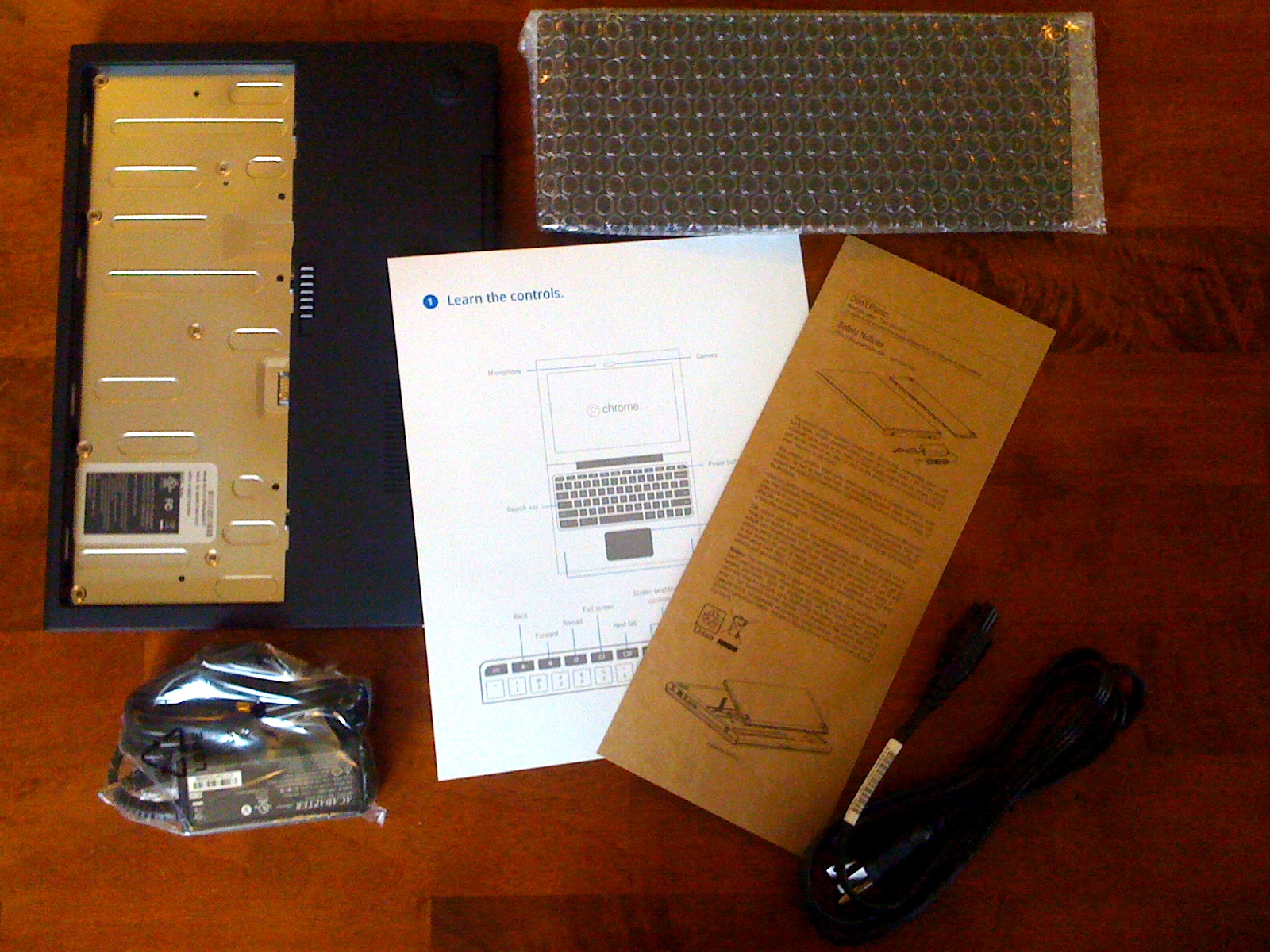 Digging into the contents of my wife's second box we found an un-marked netbook sized notebook*, an AC wall power charger, 2 small instruction pamphlets (see one below) and a battery. When we opened the more recently arrived box, the only new thing added was a sheet of stickers to be used to customize your Chrome Notebook.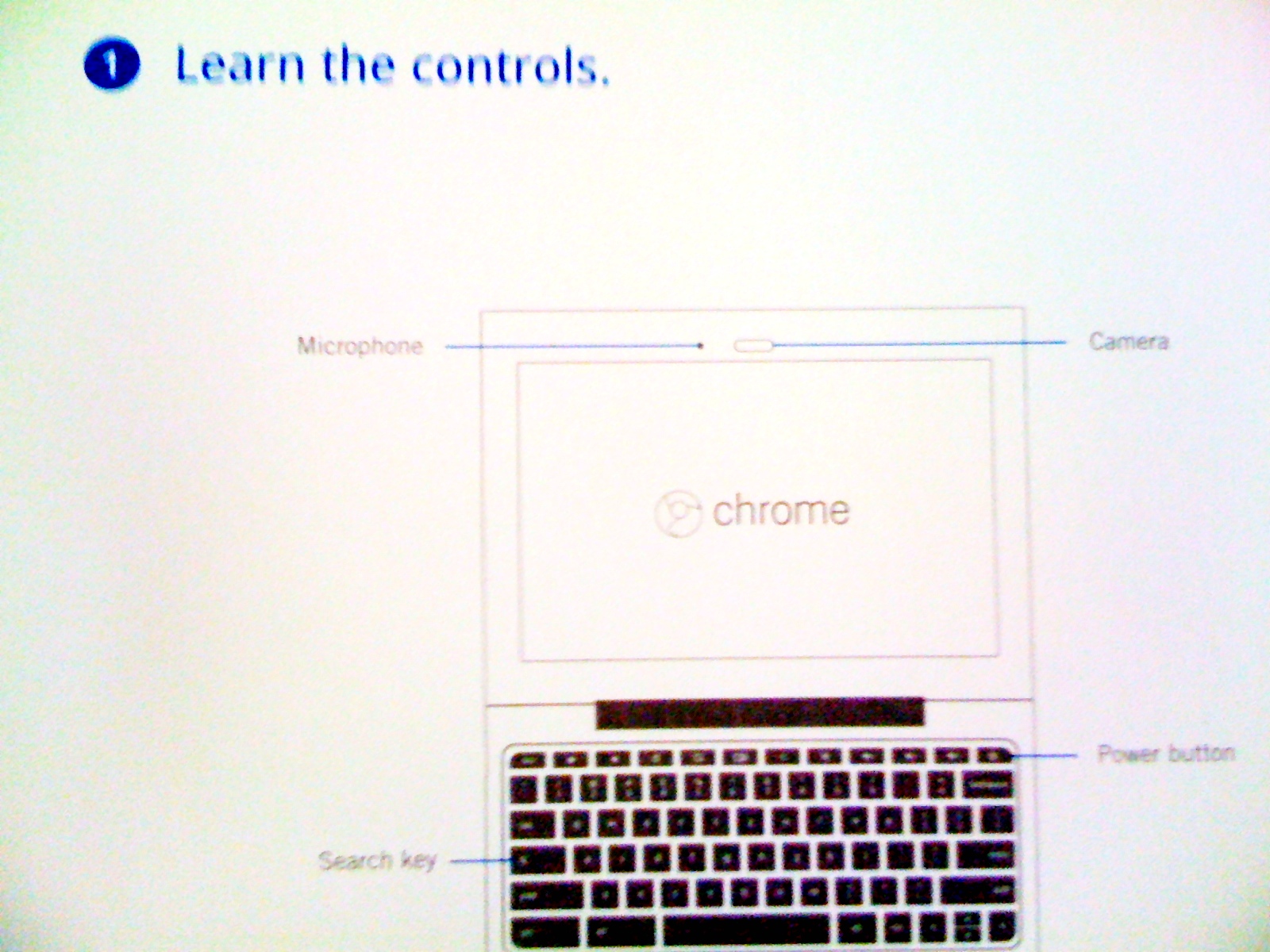 Notice the Caps Lock key has been replaced with a Search key. Pressing this key opens a new tab with the curser in the address bar, ready for your search terms. If this drives you too crazy (like it does me) you can switch the option in settings to make the button operate as Caps Lock again. (Although I've taken this as a challenge to improve my typing ability by learning to adequately use the shift key as it was intended.)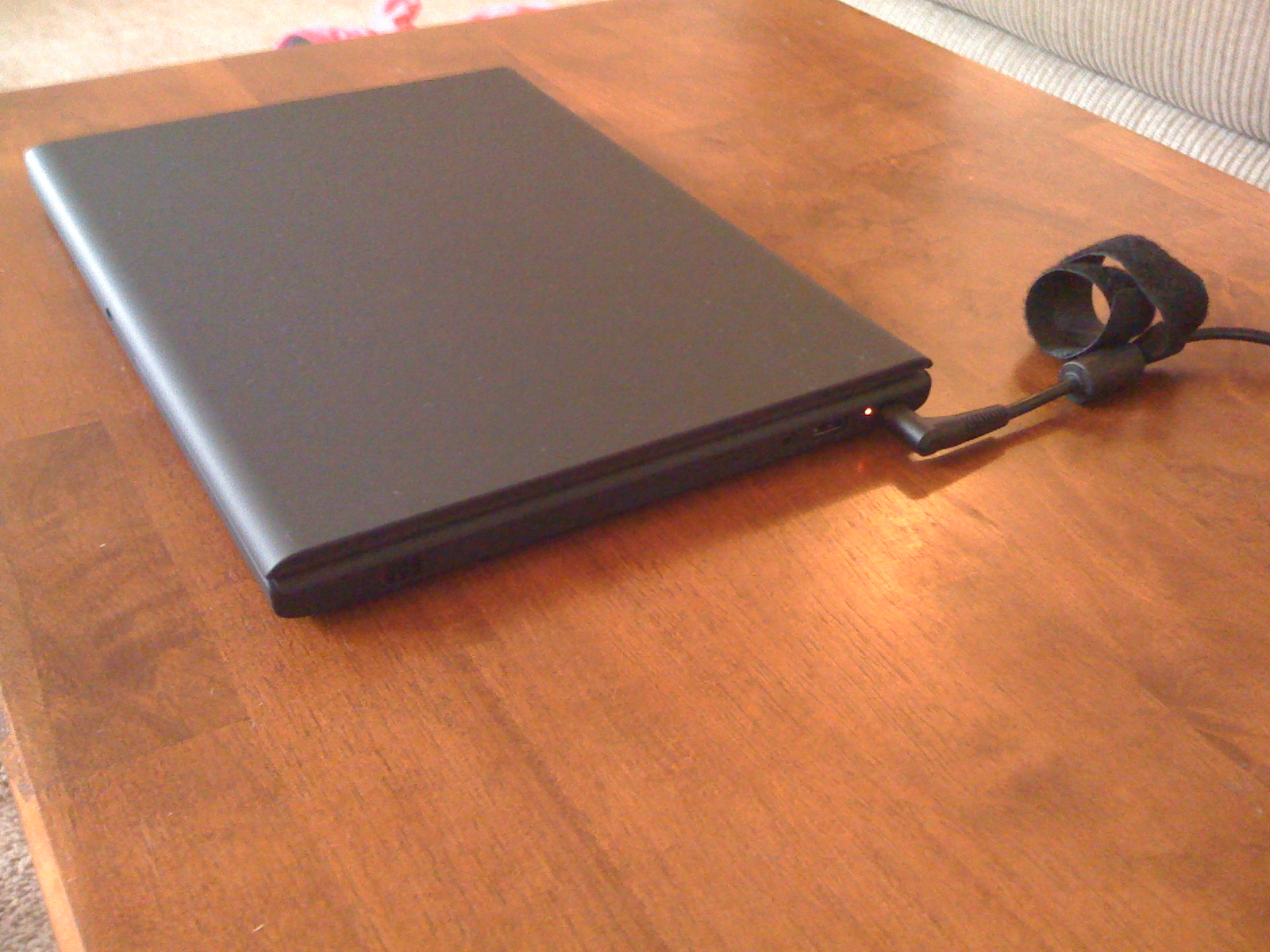 Both Chrome Notebooks arrived with zero juice in the batteries. The instruction sheet said that an orange light will glow when charging is needed and will turn white once the computer has finished charging, which might take a few hours if the battery is completely drained. After leaving my wife's notebook (above) plugged in for nearly 6 hours with no white light, I checked online (on our old Toshiba) and found that the best recommendation was to take the battery out, wait a few seconds, then replace the battery. We did, and upon plugging the power cable back in, immediately got the long awaited white light.
My Google notebook charged in 2-3 hours without any  battery finagling .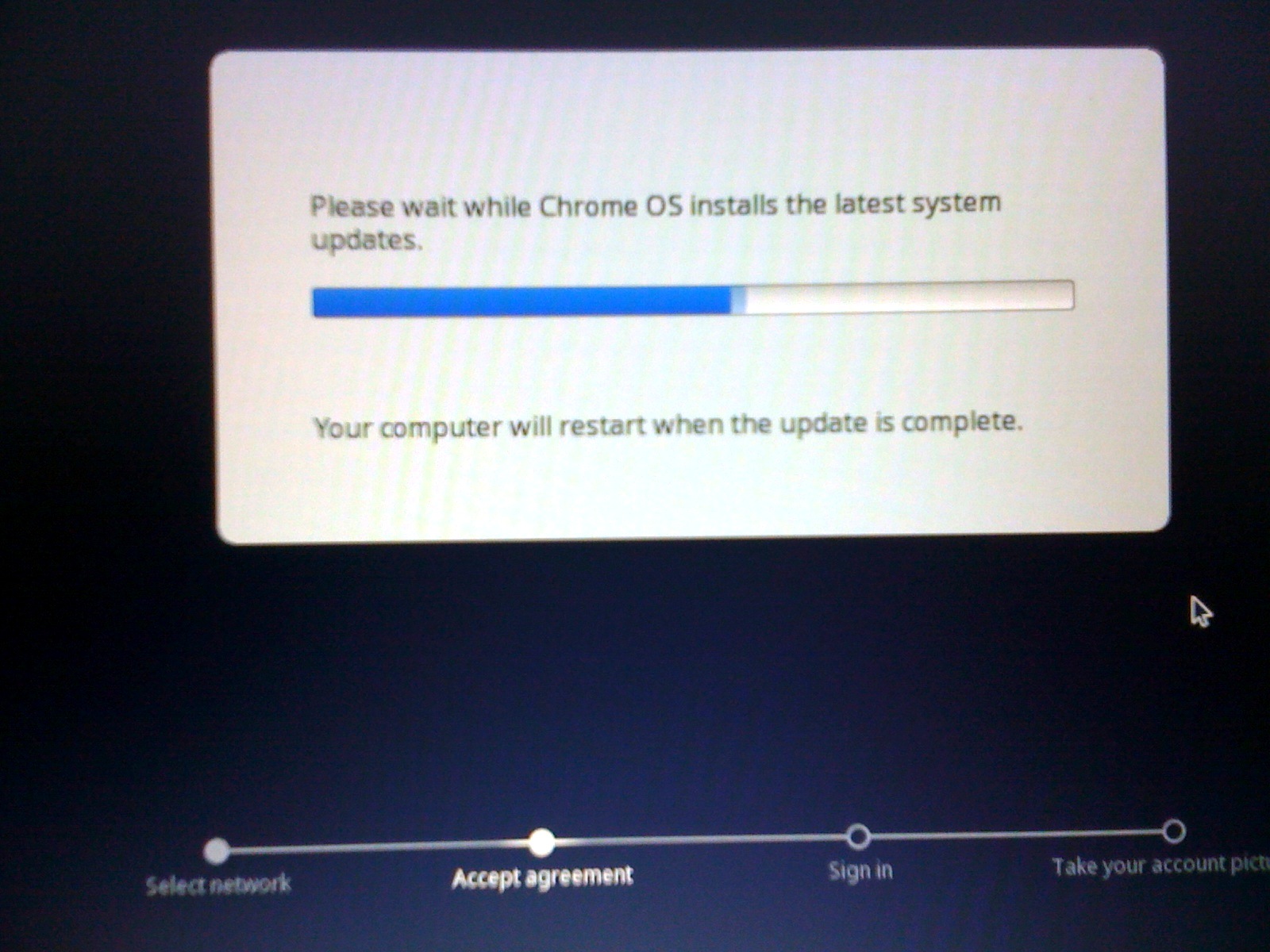 Launching the Google Chrome OS. After a full charge, my wife opened her notebook and it booted up without pressing any buttons. I appreciate that – a computer that knows that if you're opening it's screen, you're probably going to want the computer on.
The operating system takes about 3 seconds to pull up a Select Network screen. We have WiFi at home, so she selected the network and hit continue. After accepting the agreement (and reading through every word, of course…) we hit next and the notebook took about 5 minutes to find, download, and install the latest version of Chrome OS.
After the install she was asked to sign into her Google account and snap a profile picture. Later, from the login screen I was able to add my own login, complete with profile picture (the above screenshot is from my Chrome notebook – the wife has yet to add her user account). If you've got a friend who's only using your Chrome notebook once, I'd recommend having them use the guest account to avoid cluttering up the login screen with a ton of other users.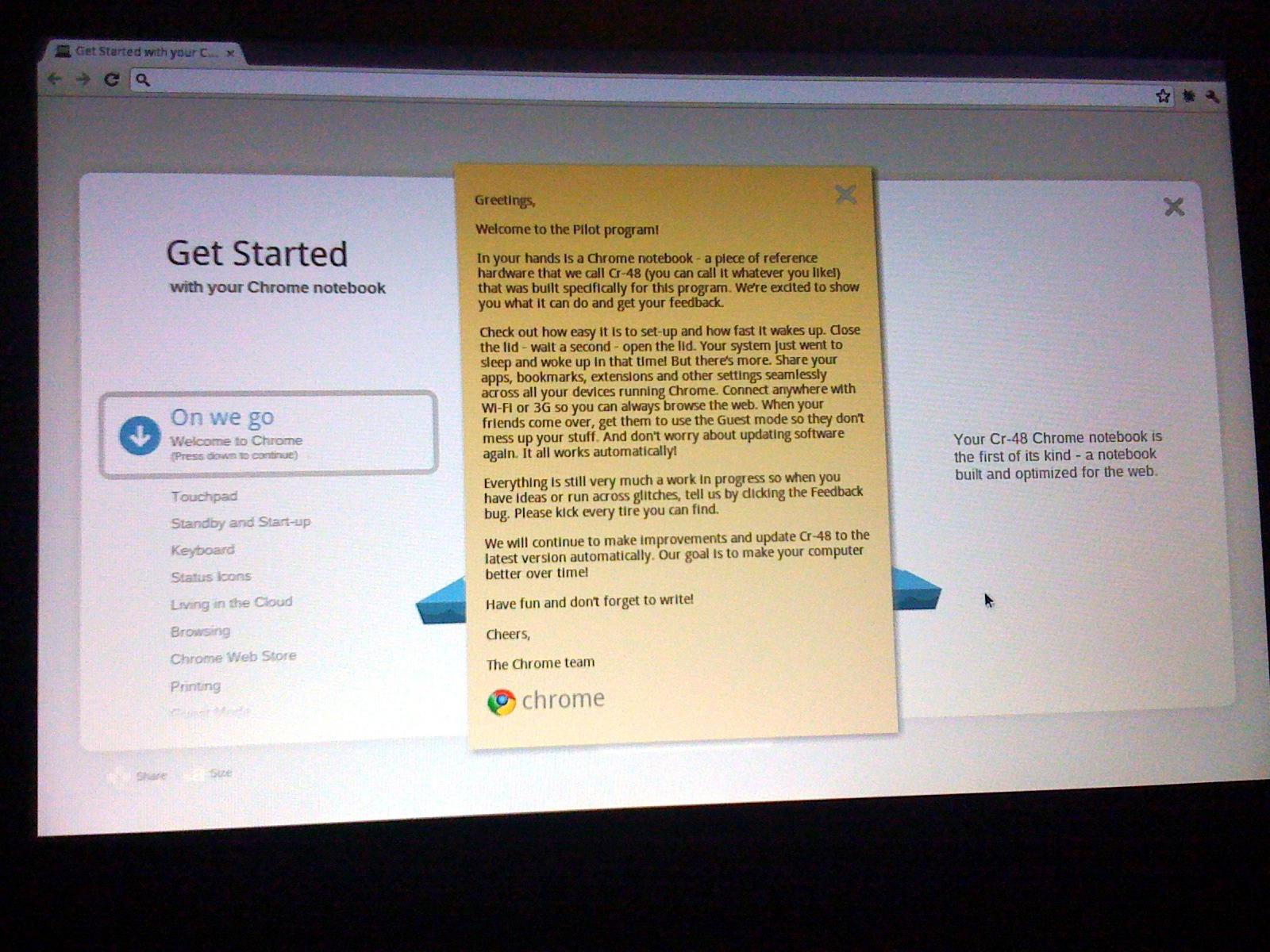 Finally, the welcome screen. A Google Chrome web browser fills the screen and a note pops up (see close-up below) highlighting the quick sleep and startup speed and connection options (Verizon 3g or WiFi). After closing the note you're guided through an optional tour of how to use the Google Chrome Notebook. Most of the instructions relate to using a Chrome web browser. A few highlight the notebook's hardware abilities: 2 finger clicking = right click, 2 finger dragging = scrolling, the track pad is tap to click or click to click across the whole pad (much like a Macbook). The instructions also point out that if you'd like to use a mouse instead of the trackpad, just plug it in via the USB port and it'll work. "You don't need to download or install anything."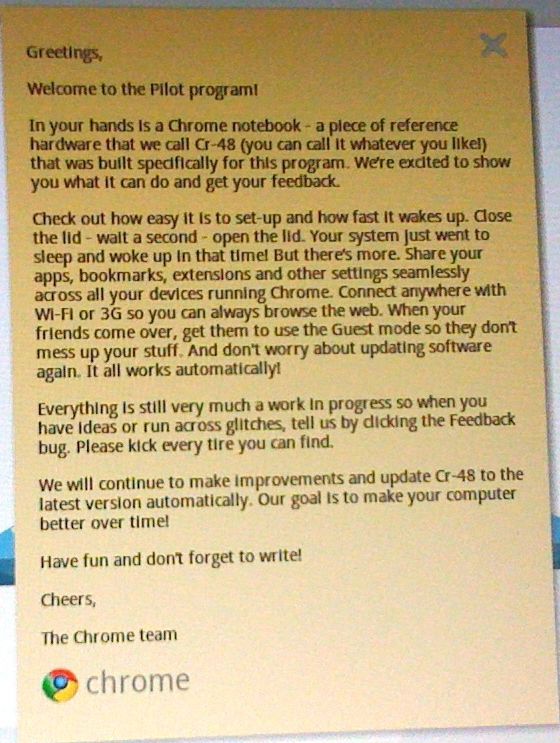 The intro walk-through also claims that you can close the computer to let the system sleep, go have a cup of coffee, come back, open the lid and be back to work in 1.12 seconds. I decided to test that right now, while writing this post. I just got up, went and reheated my Pizza Hut deep dish pizza left over from last night. I just sat back down, opened my notebook and before I finished lifting the screen a notification popped up about gmail, I switched tabs quickly and a looping animation on a different tab was already moving again. Wow. Maybe less than 1.12 seconds.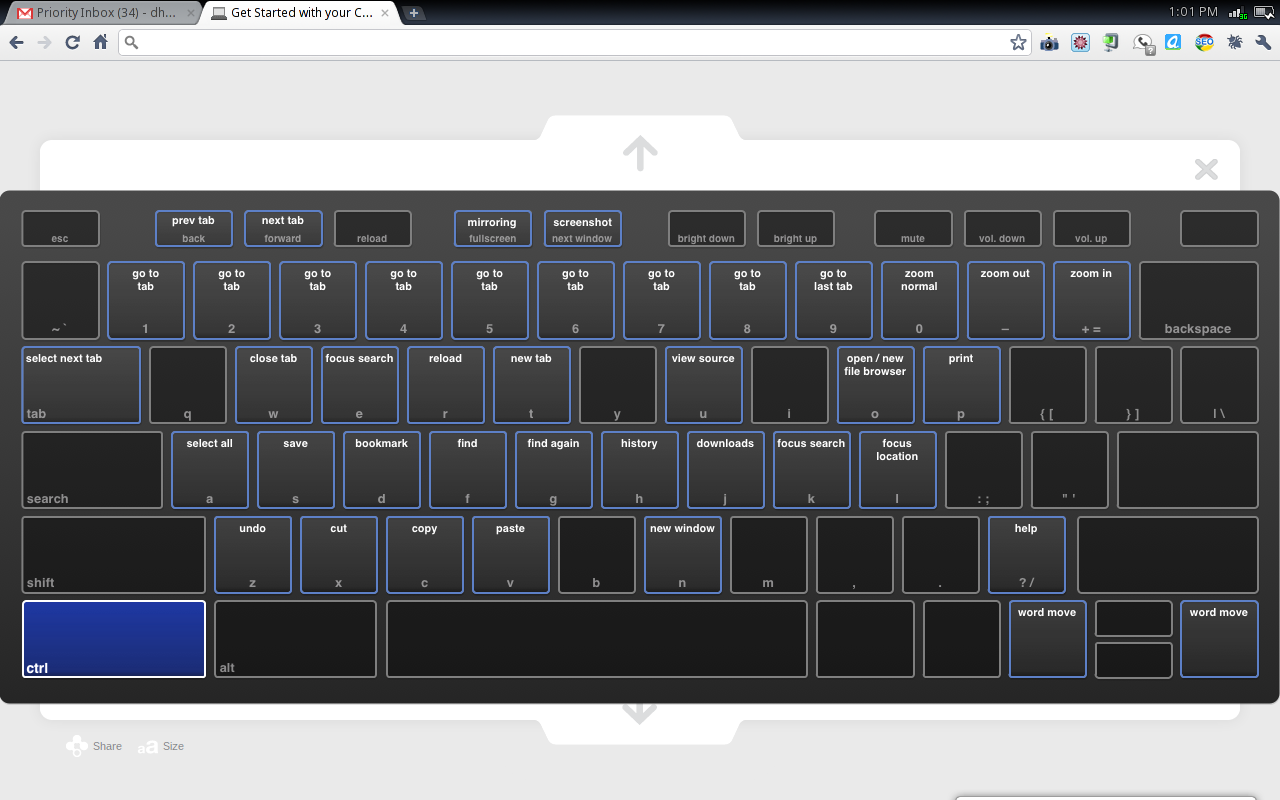 Pressing ctrl+alt+? displays special keyboard shortcuts. Once the image is up you can see which shortcuts are tied to each of 3 keys by holding them individually – alt, ctrl, and shift. The screenshot above is taken while holding ctrl.
Printing from the Google Chrome Notebook is available via Google Cloud Print. There are 2 ways to print – one involves networking a printer already connected to a Windows computer to be available via the Cloud, after some installation and settings are set-up. The other option is to print to special printers alluded to as Google Cloud Ready Printers, "optimized for your Google account." They say to visit the Google Cloud Print page for a list of printers Cloud Ready but I couldn't find such a list. Maybe's it's forthcoming?
That's what I've got so far. I'll be using my Google Chrome OS Notebook extensively over the coming days and will post updates about my opinions of the experience.
*note: Google calls this computer their Chrome Notebook, even though it's the size (12 3/4 inch screen) and functionality of a netbook and even though most writers have been calling it the Google Chrome OS Netbook or Google Netbook for short.