Google takes the Facebook Like button concept to their search results, and the world, with their new plus 1 (+1) button. If you sign up for the experiment here – http://www.google.com/experimental/index.html you'll start seeing the +1 button next to Google search results right away. Eventually they say they're rolling out a button to add directly to sites so users don't have to leave your webpage to suggest it's content to Google's index.
Google +1 sounds like a sure-fire way to promote a whole new type of spamming. It's so hard to crowdsource something when crowdsourcing is so easily spammed, bought, or sold.
But maybe part of their analysis of the importance of each +1 click will depend on your Google account – how much you use it, which of their products you use (Gmail, Calendar, Docs, etc.) If Google has figured out a way to rate a Google Account as trustworthy or not, this could actually be a helpful product in getting some of the junk results out of Google search.
The upside is, Google +1 is different than the Facebook like button in that there is also a "dis-like" version available. See below: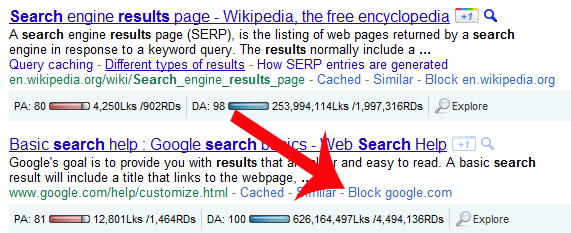 I've had the "Block" option in my search results for a little while now and haven't used it more than maybe once yet. Have you found use for it? What websites have you blocked? Will you actually use the Google +1 button?